Average Wedding Guest List
How to organize your Guest List on Excel! | Wedding Planning
My clients have asked me in the past what an average guest list is. Here is what Ive determined over the many years of planning.
Small Wedding – 50 guests or less

Medium Wedding – 50 – 150

Large Wedding – 150 – 300
Once we start to get into the 300 to 800 person weddings were most likely facing a cultural situation like Nigerian weddings are famously known for everyone is invitedIm not kidding I mean EVERYONE, like there is no RSVP list. Cousins, cousins friends, neighbors, parents co workersall are invited. I also see this happen a lot in Middle Eastern weddings typically around 400 – 600 people unless its destination, which will normally cut that number in half. One more place Ive seen this happen is parents with large church congregations especially in the Korean culture.
In my opinion the sweet spot that Ive seen where there is less stress involved and smaller moving parts is when the guest list is around 125. Thats a great number for a $60,000 and above wedding. Gives you room to design freely, to customize and personalize your day. You can spoil your guests rotten and host a great party without compromise.
Use Your Guest List For More Than Just A Head Count
Use it to keep addresses, track your RSVPs, gifts you receive, who's invited to the shower or rehearsal dinner, etc. Number your guest list, and then put each guest's number on the back of their RSVP card when you send them out. That way, when your Aunt Ida sends in a blank card, you won't pull your hair out. You'll sigh in relief, give her a call, get your answer, and move on.
Master The Art Of Guest List Planning
If you are grappling with an unmanageable wedding guest list, then you should scroll down through the infographic below from The Wedding Band Shop. This super informative graphic offers some tips on how to organize your list with advice on how to overcome common guest list dilemmas.
It will likely be difficult to not invite people you truly love, but if you make the choice to dig a little deeper and ask the questions a little more critically, you can come to a guest list size that suits your vision and your budget!
At the end of the day, your wedding is a day for you and your partner to celebrate a new beginning in your lives. The only people you technically need there are the two of you and a witness/officiant. Everyone else is just an added bonus.
Also, remember as a bride, its not your job to please everyone. In fact, its simply not possible. If you plan the wedding that the two of you want to have, that fits your values and vision, youll be sure to enjoy it no matter how many people attend.
Don't Miss: Where To Buy Randy Fenoli Wedding Dresses
How To Put Together A Wedding Guest List
Trying to work out how to put together a wedding guest list that makes everyone happy? Our guide will help you navigate the politics and make sure everyone you love is where they need to be on your big day
We have included third party products to help you navigate and enjoy lifes biggest moments. Purchases made through links on this page may earn us a commission.
Lets be honest: figuring out how to put together a wedding guest list that makes everyone happy can get more political than the actual Houses of Parliament. But it doesnt have to be that way.
In fact, making a list that works for you and your partner should be simple: write down everyone who you want to be with you on your wedding day, and disregard the rest. Sounds easy, right? But somehow, in practice, things are never quite this straightforward. Fear not, newly-engaged reader, were here to help.
Heres everything you need to know about building your wedding guest list from start to finish, and plenty of tips to keep everyone happy along the way.
READ MORE
And Five People You Really Dont Need To Put On Your Wedding Guest List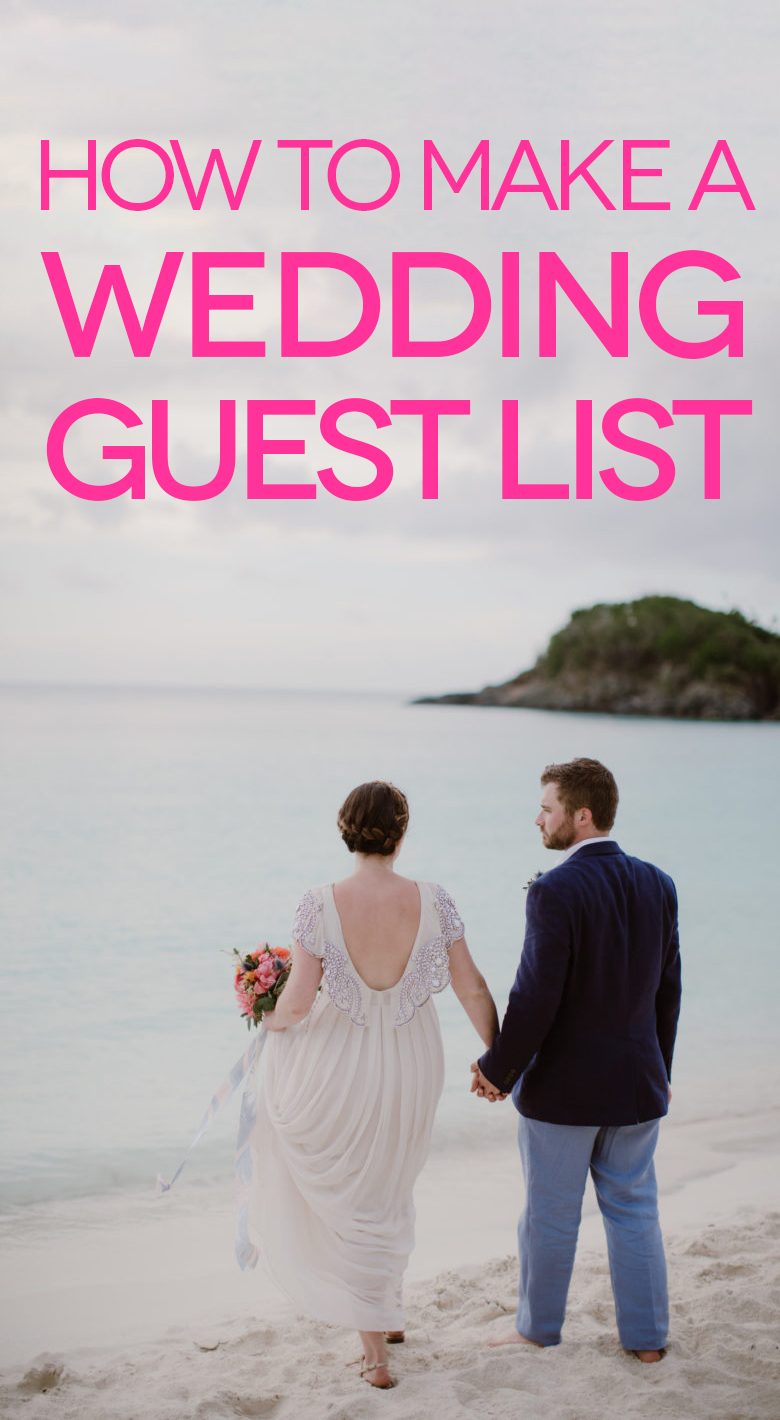 1. Other Peoples Children
If you want a child-free wedding, have a child-free wedding. There is no law that says you must have little ones as part of your big day. Okay, some parents may have hoped for their pride and joy to be bridesmaid or pageboy, and theres the question of finding childcare while mum and dad let their hair down at the reception but realistically, theres nothing more boring for most kids than sitting through vows they dont really understand and have no interest in. However, if someone either cant or simply wont come because they cant bring their child, you have to respect their decision, just like theyve respected your decision to have an adults-only affair it works both ways.
2. Plus Ones You Dont Really Know
Plus ones are typically the most controversial element of any wedding guest list, but dont feel you have to send them to everyone, especially if its a new relationship and youve never spent time with them before.
READ MORE:48 Awesome Ways to Entertain Your Wedding Guests
3. People Who Invited You to Their Wedding
4. Your Co-Workers
You May Like: Wedding Excel Spreadsheet
Best Way To Make A Wedding Guest List
One of the many personal challenges my clients face throughout their wedding planning journey is to figure out the best way to make a wedding guest list. If it were up to you two as a couple, youd invite your closest family and friends and be done. But then your parents have their own list and then what do you do with the singles? Should they get a plus one…what are the rules? And then there is the B list…and maybe even a C list. In this post Im going to breakdown the different categories of the guest list and the BEST way to make a wedding guest list.
Categorize Into Two Lists
Begin with your lifeboat people. Theyre the easiest to identify. Its likely that neither you or your spouse-to-be can imagine the wedding without them. If it wasnt for sharing your day with these people, you might just elope! Its also okay to make a make a second-round list. If you send out invites early enough, you might be able to include them as you get RSVPs back. However, be careful about drawing lines within certain groups for example inviting some but not all of your cousins.
Don't Miss: Addressing Wedding Invitations To A Family With No Inner Envelope
Should I Add Kids To The Guest List
Kali & Stephen. June 8, 2014. Princeton, Mass.
My husband has a huge family and mine is tiny, so our guest list was very off-balance. He has about 25 first cousins, aunts and uncles, and we had to invite them all or noneor else it would cause some rifts in the family. Since our overall list was so constrained to begin with, it was pretty challenging to accommodate this and we ended up having to cut some friends.
Since Nicks family was so much bigger, we also decided to have it in the city where he is originally from and where the majority of his family resides, rather than where we live, so that his family would be able to attend. This led to a bit of conflict at the beginning, but luckily hes from an awesome city, and having it there ended up being the best decision we made.
Tips For Making Your Wedding Guest List
How to Start Your Wedding Guest List
It might be helpful to remember that, whether you're having 20 wedding guests or 220, there has to be a line drawn in the sand somewhere. Some people make the cut, and some people don't – it's tricky no matter what. By upping your guest list by 50, the goal posts may have changed, but the tough decisions are still there!
Have you ever not been invited to a wedding you thought you'd be asked to? Did you really mind? Probably not, or not for very long anyway. Of course, anyone would be excited about the prospect of sharing your day with you, but do remember, people are normally more understanding than you'd think and know the constraints of a guest list.
Lots of people say to over-invite, as 10-20% of guests will turn you down, but that can be a dangerous game to play, unless your venue, and your budget are flexible. You never know, all those people you invited from Australia out of politeness, might just use your wedding as an excuse for a holiday in Ireland!
Recommended Reading: Can You Officiate Your Own Wedding In California
Use The Guest List For More Than Just A Headcount
You can use it to keep addresses and track gifts you receive. You can designate who is also invited to the shower or rehearsal dinner. And youll definitely want to use it to track your RSVPs. Number the guest list and write the corresponding number on each RSVP. That way, when you get back a blank card youll know exactly who to call.
Enroll In The Free Mini
Bookkeeping on Sheet 2 and other purchases all your fun Project Block Ingredients = Assignment 2
Tracking your RSVPs and saving some money = Assignment 3
Addressing your Invitations Properly by combing through prefixes, guests, children and how to address outer envelopes = Assignment 4
Sound like assignments you might want to follow through with?
You May Like: Best Wedding Band For Solitaire
Strategically Mail Your Initial Invitations
Once all your wedding decision-makers have agreed on the final A list draft, its time to figure out who can actually make it. Make your RSVP by date very clear and obvious. Then, follow up with late RSVPs right away by phone. If anyone is still on the fence because of work or other obligations, let them know theyre still invited but you will be sending out your next round of invitations on whatever date you choose. If they cant respond by then, let them know you regretfully may have to offer it to someone else.
Heres where the strategy comes in. Once you see how many people actually checked Yes, its time to send out all of your B list invitations. Resist the temptation to send them out one at a time as the regrets come in. Instead, stick to your timeline and batch mail them. Its easier to keep track of and gives your A list a little more wiggle room in case something drastically changes.
Again, put a firm RSVP by date on the card. Then rinse and repeat for your C list. And, throughout the mailing process, dont tell anyone that the invitations have gone out yet unless they ask. That way they wont figure out which list they ended up on and no one can get offended!
How To Make A Wedding Guest List For An Intimate Affair And Why
Five years ago, we stumbled across the biggest gem of our creative lives in Chapel Hill. A little white chapel stood vacant, in need of both ownership and full restoration.
Abandoned but not forgotten, some saw the building as too far gone, but we celebrated restoring it like saving an old friend. We spent years of thoughtful restoration to bring this chapel back to life as a place to honor the intimate gathering 100 or less . Here there are no acquaintances no obligatory invites that blow the budgetonly close friends and family, because, after months of planning the perfect day, the receiving line for 150-200 people is no place to be stuck. And if you must cut that guest list due to the current state of affairs, know a personalized, inspired event is still yours to be had.
But what about moms 3rd cousin Edna and Dads former boss, you ask?We know conflicting opinions from parents, family members and your future spouse can make this a challenge, but we know youre up for it. Weve established guidelines that will help you narrow your guest list down. You will not only create but also afford the wedding of your dreams. Imagine treating your guests to a high-quality, creative and personalized experience making your wedding an event to remember.
Read Also: Wedding Excel Sheet
Create Your Guest List Draft
Lets start by creating an ideal list of everyone youd love to join you at your wedding. This will become your dream guest list draft, and you can work backwards from here. Remember, youll likely be trimming this list later , but taking some time to create a draft first will ensure you dont forget anyone.
Sit down with your partner and make a list of your nearest and dearest, working from your closest friends and family through to your more casual acquaintances.
You might want to create your list in this order:
Immediate family parents, siblings, in-laws and grandparents
Close friends your BFFs, the kind of people youd ask to join you in your bridal party
Extended family cousins, aunts and uncles
Extended friends acquaintances, colleagues
Next, youll need to factor in any partners and/or kids of any guests on your list, unless youve already made a decision to host a child-free wedding.
Finally, consider your parents and future in-laws. Are they contributing to your wedding bill? If so, this traditionally means theyll have some influence over your guest list. Ultimately, its your day, but if your parents are covering your wedding costs then the correct etiquette is to allow them some space on your guest list.
Have an upfront chat with your parents to determine what their expectations are, and if they have any additional guests in mind for your day. Make sure you update your draft guest list accordingly based on their input.
Brainstorm A Master List
Once youve determined whos on the VIP list, make a master list of all the guests youd like to have at your wedding. The skys the limit! Think of it as a brainstorming session for your guest list. Some experts suggest that couples create two separate master lists, then come together to see where theres overlap and where the fat needs to be trimmed. This exercise is a great way to get the conversation started around who should and should not be there.
Hint: This tends to be a sensitive subject, so review these wedding guestlist arguments ahead of time so you can be prepared to duke it out in a fair and rational way.
Read Also: Wedding Spreadsheets
Figure Out If Plus Ones Are Allowed
While its traditionally been a given to offer wedding guests a plus one, its becoming more common for couples to turn away from this tried-and-true rule. Afraid to break convention? Keep in mind that once you open the doors to a plus one, its generally considered rude to cherry-pick who brings who. If your brother can bring his wife of 10 years, then your friend can bring their flavor of the week fling. Ask yourself: Do you really want to look at your wedding pictures and see a room full of strangers?
Hint: Take each individuals perspective into account. For example, you may have a friend who is single traveling from across the country. If he or she has their own relationships with other people in attendance , theyll be good on their own. Just remember to seat them with other singles and/or people theyre comfortable with.